Item #YHWMDS6108(8-10) Highway guardrail driver extracting machine, with powerful engine and functional accessories, if blow count significantly lower than expected, review soil borings. If soil borings do not indicate sofe layers, pile may be damaged below grade. If the pile was spliced, re-evaluate splice detail and field procedures for possible spalice failure.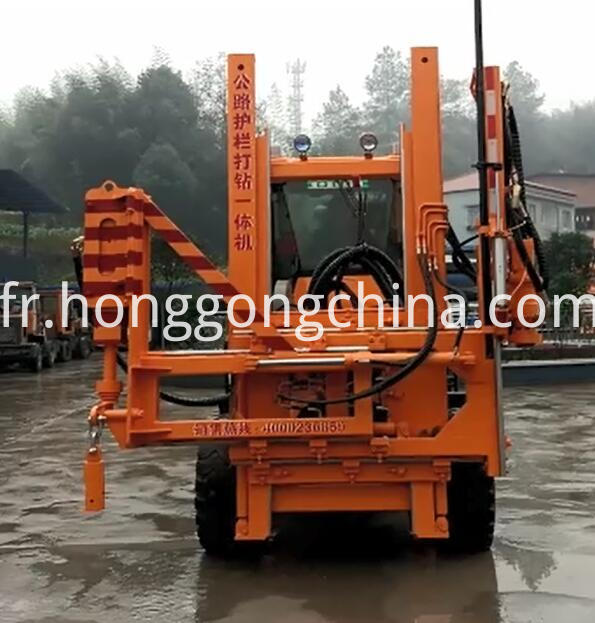 Yuhong Series hydraulic pile driver is composed of the chassis, guide rail, hydraulic system, hydraulic hammer, diesel engine, electrical, cooling and control system, pile extracting equipment and pile drilling equipment, dedusting system, portal frame. Its characteristics include quick and exact positioning, compact size, lightweight, self-propelled, agile, ergonomic design, easy operation, high efficiency and competitive price.
The automatic pile driver machine has a very famous Yucai brand diesel engine with electric starting equipped, has stable performance, simple operation and maintenance and a very long service life.
The road drilling machine, drilling motor is hydraulically operated and the drill is pneumatically operated with an air compressor. The drilling equipment comprises of a hydraulic motor, connecting device, connecting rod, pneumatic percussion hammer and a drill bit.
Post Driving Function: Yuhong Series Pile Driver is designed to install and maintain highway anti-collision guard rails ,is especially applicable for driving the guardrail post in newly constructing highways.
Post Extracting Function: With the same hydraulic system for extracting poorly driven or incorrectly positioned posts in road maintenance work, it is a professional machine for the extraction of posts from any surface condition.
Post Drilling Function: This equipment can drill holes into concrete, rock, granite and any other very hard road materials, and then easily install the posts.
Dedusting system: the unique design on our machine is healthy for both human and nature enviroment.
As the pile driving, extracting and drilling equipment all share one chassis, it is the most economical investment for getting all three functions. You can install any accessory onto the chassis according to your working need.
Technical Parameters:
Engine model: Yucai6108
Engine rated power:118kw
Rated speed: 2200r/m
Max output torque:4500n/m
Hydraulic system flow: 40-65
Hydraulic rated pressure: 16Mpa
Drive system: 4 wheel drive
Max turing radius: 5000mm
Screw type air pressure: 0.8Mpa
Screw type air consumpsion:10 m3/min
Drill bit sliding extra route: 380mm
Hydraulic hammer sliding extra route: 500mm
Dedusting system: suction type
Air compressor method: 8-10
Cab configuration: luxury
Tire spec: 20.5/70-16
Brake cofiguration: Disc + automatically air-cut brake
Drilling diameter: 120-200mm
Drilling depth: 0-2100mm
Drilling capacity: 320holes/day
Hydraulic hammer weight:220kg
Hydraulic hammer impact requency: 500-900Hz
Hydraulic hammer working flow: 60-100 l/m
Working pressure of hydraulic hammer: 13-16 Mpa
Max forward angular of frame: 12 degree
Max backwards angular of frame: 16 degree
Astern display: yes
Emission Standard: China III
Total weight: 5300kgs
Dimension(L*W*H): 5450*2340*2700mm
Warranty: 1year
Pre-sales Service
* Inquiry and consulting support.
*Sample testing support.
*View our factory.
After-sales Service
*Training how to install the machine, how to use the machine.
Groupes de Produits : Pilote multifonctionnel de pile de garde-corps de route > Pilote de pile avec vis Air-compresseur